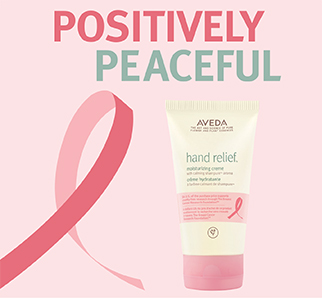 Supplies limited. Hurry in and BE a part of MAKING A DIFFERENCE.
We will not STOP until we find a cure. Once and for all…
MAKE A DIFFERENCE
Every year during Breast Cancer Awareness Month, Aveda releases a limited-edition of our bestselling hand relief™, and donates a portion of the purchase price from each sale to The Breast Cancer Research Foundation® (BCRF) for cruelty-free research. This year, for the month of October, Aveda will donate $4 U.S. from the purchase price of each hand relief™ to the BCRF.* BCRF is a nonprofit organization founded in 1993 by Evelyn H. Lauder and is the only national organization strictly dedicated to funding clinical and genetic research on breast cancer at medical institutions across the country.
SUPPORT CRUELTY-FREE RESEARCH
Donations from Aveda are used to fund cruelty-free research exploring environmental causes and links to breast cancer such as exposure to toxic chemicals and pollutants. For many years now our funding has been directed to a specific research project at Columbia University in New York that studies the interaction between environmental exposures and genetic susceptibility to breast cancer. Future funds will support this or similar projects.
Buy your Special Limited-Edition Hand Relief at Walter Claudio Salon/Aveda Store.
11 W. Figueroa St., Santa Barbara
For more information about BCRF, visit bcrfcure.org.